Educators have access to a plethora of innovative digital tools online. In this article, we will take a look at some tools that can help transform the school education sector.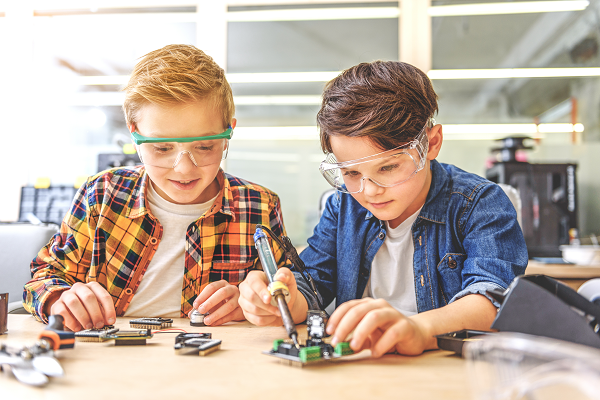 The term 'innovation' conjures up images of new ideas, tools, and ways of doing things. Innovative tools can help make the learning process more exciting and dynamic. The pandemic undeniably accelerated the digital transformation in the education sector. In this context, the use of digital tools to enhance learning can be a welcome change to the curriculum in many classrooms.
However, it is important to keep students safe online when using these technologies, and to pay attention to issues concerning plagiarism and misuse of data online.
The tools presented below are given as an example and are not meant to be used to the exclusions of any other tools. In the end, the most important innovative tool schools have are their teachers.
Robotics in the classroom
 Robotics in education is a growing field and a great way to foster critical thinking and problem-solving skills among students. Coding is an essential component of carrying out a robotics project and is made easy through software such as Code with Google or the Microsoft MakeCode platform. Students can use these free online platforms to improve their coding skills, create games and even write programs for the micro:bit. This pocket-sized robotics kit is the perfect introduction to hands-on robotics for students of all ages, and comes with a variety of free resources and tutorials.
Also, take a look at the resources offered by EU Code Week on combining tinkering and robotics or using the Beebot robot.
The video shows using MakeCode to program a micro:bit.
Artificial intelligence in education
Artificial intelligence (AI) has great potential to transform education and training for students, teachers and school staff. For example, it could help reduce early school leaving or compensate for learning difficulties. It could even be used to support teachers with differentiated or individualised learning through language learning applications, text-to-speech generators, AI mentors for learners, and more.
Adaptive learning is an educational method that uses AI and computer algorithms to give students customised resources and activities to address their individual learning needs. EdApp is a free adaptive learning platform that allows teachers to detect learning gaps in student work and provide personalised learning solutions. In Belgium, the Kabas primary education learning platform has developed 'Kai', the co-teaching tool designed to offer timely exercises and instruction to students. This ensures that each child has the most optimal learning path.
Chatbots like Duolingo use adaptive learning to teach foreign languages. Why not go a step further and try out Duolingo for schools, which provides teachers with insights to track their pupils' progress. To help you incorporate Duolingo into your classroom, check out their easy-to-follow guides.
Immersive learning with extended reality
Educators must keep up to date on how to make sure students are engaged in the classroom. Embracing emerging technologies such as extended reality (XR) can help bridge the gap between generations. Rather than following traditional whiteboard-based styles of instruction, XR offers a fully immersive learning experience in which education becomes fun, relevant and engaging.
Spatial is an example of an immersive platform where teachers and students alike can create, share and explore 3D experiences. Meanwhile, Google Expeditions allows classes to take virtual field trips to places like Mount Everest and the Louvre. Field trips are categorised by subject such as science and technology, arts, natural history and geography.
Digital game-based learning and gamification
Game-based learning has emerged as a promising direction for supplementing and improving the delivery of educational content. Games can provide a variety of beneficial learning techniques, such as explorative learning, inquiry-based learning, trial and error, learning by doing and so much more.
Examples include Google Read Along which uses gamified features like points and badges to help students stay motivated while improving their literacy. Educators can also make learning more interactive with Genially, which can turn assignments into fun quizzes and games for students!
For further resources, educators can consult this handbook for teachers on using educational games in the classroom, developed by ISFE and European Schoolnet.
Retrieved from: How to bring innovative IT tools into the classroom | ESEP (europa.eu)